ID Silver Mark - Security Marking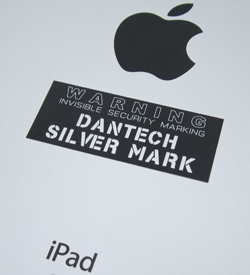 All-Purpose UV Security Marking
Now Also in
BLACK
Silver Mark security labels are UV stencils which can be applied to your valuable equipment to give a clear identification of who the item belongs to.
Each security label stencil can include your name and other key details, like sequential numbering for easier item tracking.
The labels are precision cut by laser and then painted with UV ink to provide permanent ID marking.
Silver Mark security labels are made from a special material which CANNOT be removed in one piece and it will break into small pieces if removal is attempted.
Even if the id label is forcibly removed the text will still glow visible if viewed under a UV lamp, as used by the police, to identify your property.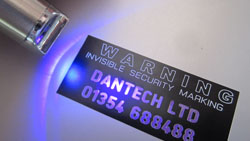 Security UV stencils suitable for most equipment.
Ideal for
aluminium and 'shiny' surfaces including:
iPads, tablets, laptops, projectors, cameras and mobiles
- where chemical etching won't penetrate.
Precision cut stencils with your own details

Silver or black material

5mm high lettering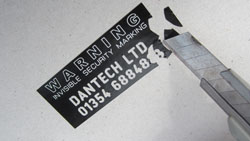 Max. 2 lines each stencil with 14 or 20 characters/spaces per line

Stencil sizes: 14 characters 53 x 22mm


20 characters 90 x 22mm

Consecutive numbering: 5p extra per stencil
UV ink enclosed with each order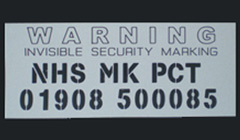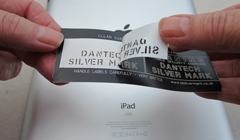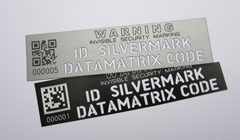 14 Characters/Spaces per Line - Price Per Stencil
| | | | | | | | | |
| --- | --- | --- | --- | --- | --- | --- | --- | --- |
| Qty | 25 | 50 | 100 | 200 | 500 | 1000 | 2000 | 5000 |
| Price | £1.35 | £1.20 | £0.95 | £0.85 | £0.75 | £0.65 | £0.60 | £0.50 |
20 Characters/Spaces per Line - Price Per Stencil
| | | | | | | | | |
| --- | --- | --- | --- | --- | --- | --- | --- | --- |
| Qty | 25 | 50 | 100 | 200 | 500 | 1000 | 2000 | 5000 |
| Price | £1.95 | £1.65 | £1.35 | £1.15 | £1.05 | £0.90 | £0.80 | £0.70 |
NEW - Now with QR or Datamatrix Code
Stencil size: 90 x 22mm
15 characters on each line (total 30 characters/spaces)
Including QR Code or Datamatrix code numbering - one sequence
Black material with white marking or Silver with black marking
Stencils with 15 characters/spaces per line & QR/Datamatrix code - Price Per Stencil
| | | | | | | | | |
| --- | --- | --- | --- | --- | --- | --- | --- | --- |
| Qty | 25 | 50 | 100 | 200 | 500 | 1000 | 2000 | 5000 |
| Price | £2.02 | £1.72 | £1.42 | £1.22 | £1.12 | £0.97 | £0.87 | £0.77 |