Ultra Destructible Tamper Evident Asset Labels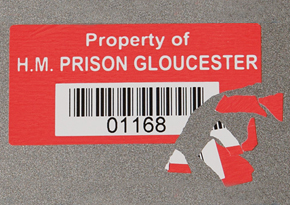 Tamper evident ultra destructible labels are asset and security labels that clearly show any evidence of label tampering.
How Tamper Evident Destructible Labels Work
These tamper evident labels are impossible to remove in one piece and will break into small pieces if anyone tries to remove the label. Protecting your property by acting as a theft deterrent that also discourages unauthorised asset transfers.
Tamper Evident Label Features
These Ultra Destructible labels have the following features:
Use a universal, powerful adhesive which will stick to most surfaces

High-temperature resistance

Impossible to remove the label in one piece

Available in one colour print, logo (if required) and sequential numbering and/or barcode

Please note these labels are not laminated as this would destroy the destructibility and make the label ineffective.
Supplied on rolls.
All prices per 100 labels - Min. order 300 labels
| Size / Qty | 300 | 500 | 1000 | 2000 | 3000 | 5000 |
| --- | --- | --- | --- | --- | --- | --- |
| 38 x 19mm | £63.35 | £48.20 | £30.20 | £23.65 | £21.55 | £18.10 |
| 50 x 19mm | £63.35 | £48.20 | £30.20 | £23.65 | £21.55 | £18.10 |
| 50 x 25mm | £65.20 | £50.25 | £32.25 | £24.85 | £21.60 | £19.85 |
| 65 x 20mm | £65.20 | £50.25 | £32.25 | £24.85 | £21.60 | £19.85 |
Prices are for one colour print, logo if required and sequential numbering/barcode