Durable and Economical Vinyl Asset Labels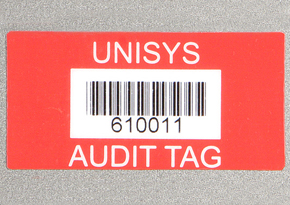 Vinyl asset labels are durable and economical being able to adhere to a wide range of surfaces.
Vinyl Asset Label Features
Dantech vinyl asset labels have the following features:
Uses a strong adhesive which will adhere to a wide range of surfaces
Clear laminating foil is applied to protect the printed image against abrasion and solvents and also provide heavy-duty protection.

Available in one colour print, logo (if required) and sequential numbering and/or barcode

Supplied on rolls.
All prices per 100 labels - Min. order 300 labels
| Size / Qty | 300 | 500 | 1000 | 2000 | 3000 | 5000 |
| --- | --- | --- | --- | --- | --- | --- |
| 38 x 19mm | £58.65 | £43.20 | £25.30 | £19.40 | £16.90 | £14.85 |
| 50 x 19mm | £58.65 | £43.20 | £25.30 | £19.40 | £16.90 | £14.85 |
| 50 x 25mm | £61.40 | £44.90 | £27.90 | £21.40 | £18.70 | £16.50 |
| 65 x 20mm | £61.40 | £44.90 | £27.90 | £21.40 | £18.70 | £16.50 |