Tamper evident labels
Show and tell tamper-evident labelling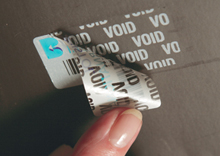 The Dantech range of security and asset labels provides a versatile solution to a wide range of industry applications offering clear evidence of tampering.
One type of tamper evident labels, once applied, will break up into small pieces if removal is attempted, thus providing clear evidence of tampering.
A special void security label will leave behind the word VOID if removed and it is impossible to place the label material back once removed.
All labels are custom printed, incl. serial numbers and barcode if required to enable logging as issued and applied.
Dantech is an acknowledged supplier for more than 15 years to both industry, government departments and the educational and health sector of security marking products, asset labels and security labels.
With a high reputation built over the years on customer satisfaction, Dantech can provide help and advice with your marking requirements, contact Dantech on 01354 688 488 for free and unbiased help and advice.
Published on Monday 12th February 2018