ID MARK indelible security marking
Asset security marking is a highly, visible deterrent against computer theft.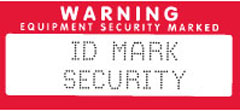 It's visible, permanent and knocks the value of your equipment down considerably if something is stolen. It also ensures that any items later recovered are also easily identified by the police and can, therefore, be returned.
ID MARK security marking comes with ready-made stencils bearing a company name and postcode, making identification extremely easy. It is very easy to apply and provides a unique and highly visible marking that should put off any potential thief!
The process to apply the marking is very simple and quick and having marked each item it is easy to identify all your equipment - a serial number can be included in the marking which can be used to make an asset register.
Why Dantech?
Dantech is an acknowledged supplier for more than 15 years to both industry, government departments and the educational and health sector of security marking products, asset labels and security labels.
With a high reputation built over the years on customer satisfaction, Dantech can provide help and advice with your marking requirements contact Dantech on 01354 688 488 or complete our contact form for free and unbiased help and advice.
Published on Wednesday 3rd May 2017