What to Consider When Designing Asset Labels
ID and asset labels are a great cost effective way to mark your assets and equipment showing who they belong to and acting as a theft deterrent.
However, with a host of materials, colours and designs how do you chose the right design for your assets?
Things to Consider when Designing Your Asset Labels
When it comes to designing custom asset labels for your business make sure that you consider where the labels will be used and what they will be used for.
Asset labels can be attached to your most important office, factory or shop equipment so that workers and visitors can identify equipment that belongs to your business.
Here are some things that you should consider when designing custom asset labels for your company:
Layout
Consider the overall layout of your label, where the company name or logo will be positioned and if you will be using sequential numbering, bar codes or both.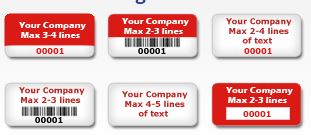 Material
The label material selected will be very important, some common material choices are:
Vinyl - suitable for printing with images such as a barcode and solid coloured text.
Metalized Polyester - suits most asset marking requirements and will conform to most surfaces.
Ultra Destructible (Tamper Evident) - act as a strong theft deterrent and clearly shows any signs of tampering.
Aluminium Foil - highly durable premium label material suitable for both indoor and outdoor use.
Choosing the right label material ensures you get the very best value for your money.
Size
It sounds obvious, but you need to order the right size for your assets.
Colour
Whether you want colours that match your brand or contrast choosing the right colour will ensure your asset labels look professional and fit in with your company look and feel.

Text
Your company name is a given, but most labels will allow for more so consider carefully to get the most from your text. If you assets are at risk of being misplaced, lost or stolen a contact number could we wise inclusion in your text area.
Numbering, Bar Code or Both
Consider if you need numbering and whether that should include bar codes or QR codes.
Numbering is a useful tool especially if you have multiple similar items that you want to track separately.
If you are including numbering then consider where the numbering should start from.
Of course you don't have to include numbering, but since this is often included at no extra cost even if you don't need it now and it could be very useful in the future.
Conclusion
By giving extra thought to your asset label design you can ensure you have the right labels for your business both today and into the future.
To design your own asset labels visit: https://www.expresslabels.co.uk
Published on Tuesday 15th September 2015