Controlling and tracking production applications
Asset identification labels and plates with barcodes provide an efficient method of identifying components going through a manufacturing process.
The identification of components presents a number of challenges and Dantech can supply labels and plates which can be used in demanding conditions with high temperatures and chemicals present.
Barcoding in a manufacturing environment will help manufacturers take control of their processes and ultimately reduce production cost considerably. By simplifying the process with user-friendly technology the risk of errors can be effectively minimised while at the same time increasing the efficiency of the production process and inevitably result in a positive impact on profitability.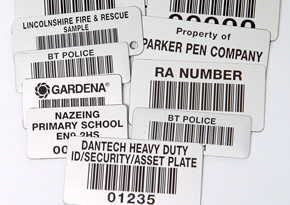 Aluminium asset labels and plates have the text and barcode printed into the aluminium and anodised permanently on top to withstand solvents, abrasions, steam cleaning and all extremes of weather without cracking, peeling or chipping.
Dantech property and asset identification labels and plates have an adhesive backing for easy "peel off - press on" application and they will bond instantly and permanently to most clean, smooth and dry surfaces. Bond strength actually increases with age.
Published on Wednesday 6th December 2017