Asset Labelling - What You Need
By marking all your assets with identification asset labels you can help prove ownership of your assets and thereby deterring theft.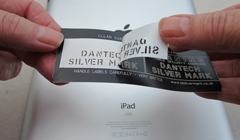 What Should you Labels Include?
Information such as your company/school name as well as a unique asset number will help you keep track of all your assets.
Identification Labels can also have a barcode indicating the appropriate asset number - thus an asset check can be carried out very quickly by scanning the barcodes and uploading the data into asset management software.
Asset Label Materials

Asset Labels can be printed on aluminium foil and polyester material which both provide a very durable adhesion to most surfaces.
Other asset label materials will destruct if removal is attempted or perhaps leave the word VOID behind if the label is removed - this all acts a strong deterrent against theft.
Why Dantech
Dantech is an acknowledged supplier for more than 15 years to both industry, government departments and the educational and health sector of security marking products, asset labels and security labels.
With a high reputation built over the years on customer satisfaction, Dantech can provide help and advice with your identification marking requirements contact Dantech on 01354 688488 for free and unbiased help and advice.
Published on Tuesday 20th February 2018