Aluminium Asset Labels for Harsh Environments
For many businesses a simple asset label can be enough to permanently mark equipment and assets, however, there are occasions when you need a tougher solution.
Aluminium asset or id plates are the perfect solutions when your equipment has to face really tough or harsh environments.
Dantech aluminium plates are made from photosensitive aluminium which is photographically printed to ensure the highest resolution possible for reliable barcode clarity and reading.
The material combines extreme durability in harsh environments with high quality and long lasting appearance while maintaining their original appearance under many harsh conditions including extreme heat, humidity, long-term exposure to weather, UV and similar outdoor conditions, salt spray, abrasion, industrial solvents and chemicals.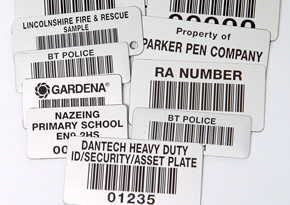 The aluminium has a service life expectation exceeding 20 years and is therefore often the specified choice by engineers looking for durable asset plates and asset labels, name plates and equipment plates.
The finished labels and plates are covered with an anodic clear and sapphire hard anodic layer to fully embed and encapsulate the image. The aluminium plates and foil labels are durable enough for the production floor yet versatile enough for an office setting and you can expect the very best from Dantech every time.
Published on Wednesday 18th January 2017